Please visit Viktoriya Skin Care where you can have luxurious skin and nail treatments.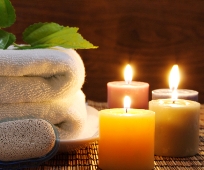 Viktoriya  has over 20 years of the working experience  in San Fransisco Bay Area as esthetician.
She is known for her relaxing touch, attention to detail, and her thorough understanding of product chemistry and skin structure.

Viktoriya recognize each person is dealing with their own particular skin imbalances as well as changing needs. Whether your concern
is dryness, premature aging, devitalized skin, excessive oiliness, acne, environmental
sensitivity or clients just want to look their best, she can create a custom tailored, affordable plan for you.
All treatments are customized to meet your individual needs. Each treatment begins with a personal consultation, and thorough skin analysis to ensure the best recommendation on the type of facial best suited for you. Viktoriya treatments will play an essential role in your skin's health and vitality. She will advise you on how to keep your skin looking young and radiant.
Viktoriya offer a full range of facial and body hair removal services, using the gentlest warm wax depilatory available, and all-disposable, sanitary materials.
Viktoriya Skin Care located at the convenient location on Califorina Avenue in Palo Alto.